Requirements and Advantages
Terrain Requirements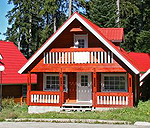 The terrain is of no significance for this kind of construction.
This house can be built up on any kind of terrain. It needs a foundation with specified water-supply and sewerage taps and power supply, prepared preliminary design of the house. We can offer sample and individual projects with different square surface.

Advantages of the Log Houses
Wood is a unique building material that creates a genuine natural atmosphere. It is good for any interior. It gives the home a special air of individuality and coziness. The advantages of the log houses are manifold.
Some of them are:
Ecological materials
Short construction time and high quality
Heat and noise insulation
Low expenses for heating
Hand-made details that add a unique character
Easy maintenance
The wood absorbs or releases the excess moisture, thus regulating the humidity, the oxygen balance and heat exchange, which create comfortable living conditions.
Wood does not cause allergies, so these houses are anti-allergic.